Healtheir is a new service that supports healthcare workers to provide brief interventions (short, structured behaviour change conversations) and link patients to locally available supports appropriate to their needs.
​​​​​​​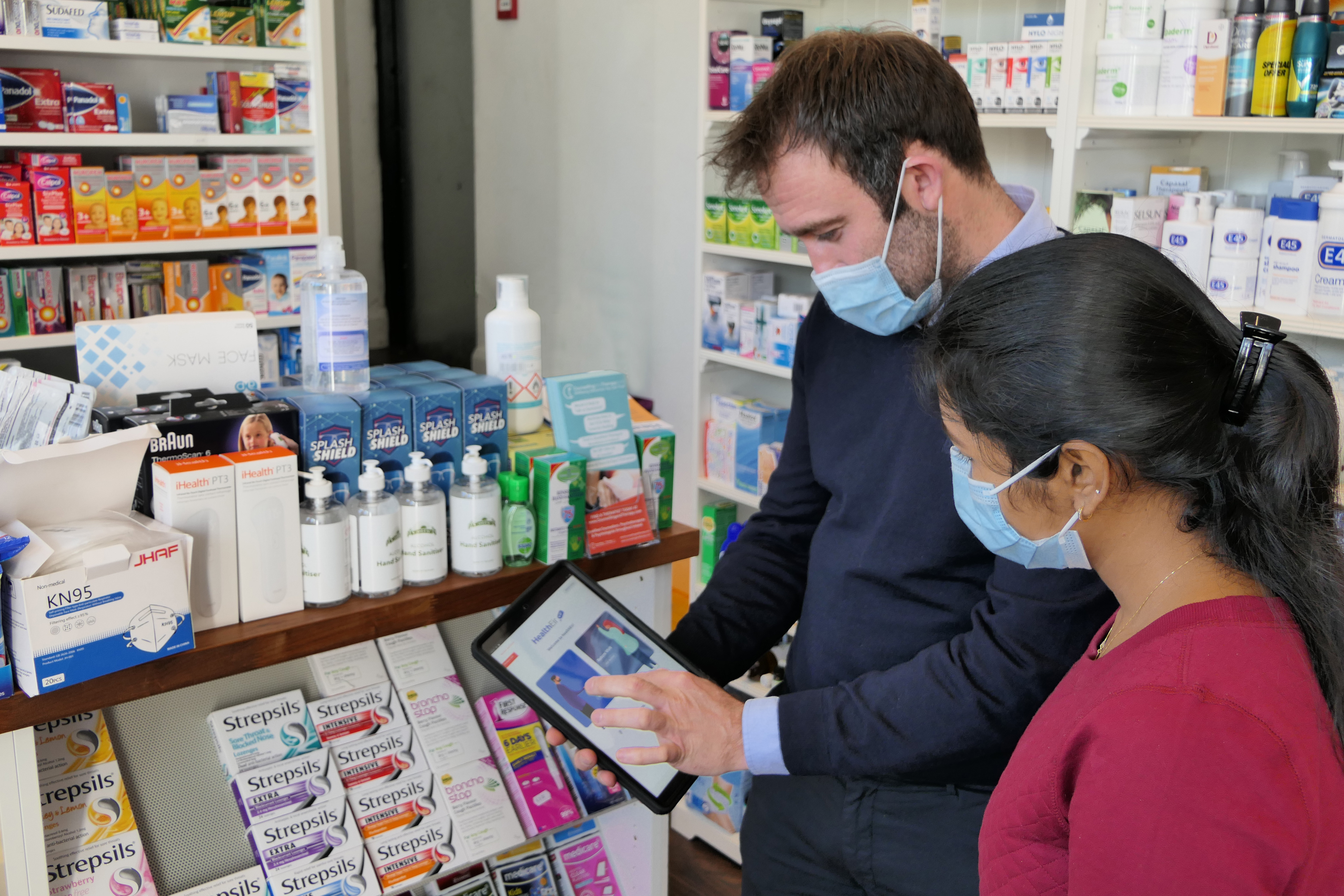 HealthEir is a hybrid service which addresses some of the known barriers to the delivery of brief interventions by introducing a digital element within the service and a number of analog tools. It allows patients to choose their own priorities and increases confidentiality. For healthcare workers, it reduces the time taken to deliver a B.I., provides education and support and a library of local services and onward referral options.
Step 1:  Patient is offered opportunity to have a brief intervention on first contact with staff (GP receptionist or OTC pharmacy staff)
Step 2: They complete initial screening questions on a tablet device while waiting for appointment or prescription
Step 3: GP or pharmacist reviews patient's answers before meeting the patient for a brief discussion and recommends local services of use of other tools based on discussion with patient
Step 4: Patient receives a printed card with details of support services before leaving

Contextual research and patient and healthcare worker interviews were undertaken as well as reviews of existing literature on brief interventions.
Barriers to delivery from a patient's perspective included confidentiality concerns (particularly in pharmacy spaces), fear of being singled out and possible stigma.  For healthcare workers barriers included fear of damaging relationships, perceived lack of patient interest, lack of relationship with referral partners, self-efficacy concerns and time and space within current workflows.
Opportunities were identified that patients were positive that brief interventions should form part of standard care models and digital interventions have a strong evidence base for efficacy and acceptability.
Current workflows within general practice surgeries and pharmacies were researched and mapped through collaborative sessions with a variety of staff and stakeholders. From there, an outline service map was created for HealthEir. Following this was detailed development of user flows for the digital element. 
Alongside UI development and build, paper based tools for use during the in-person consultation and training materials for healthcare professionals were developed.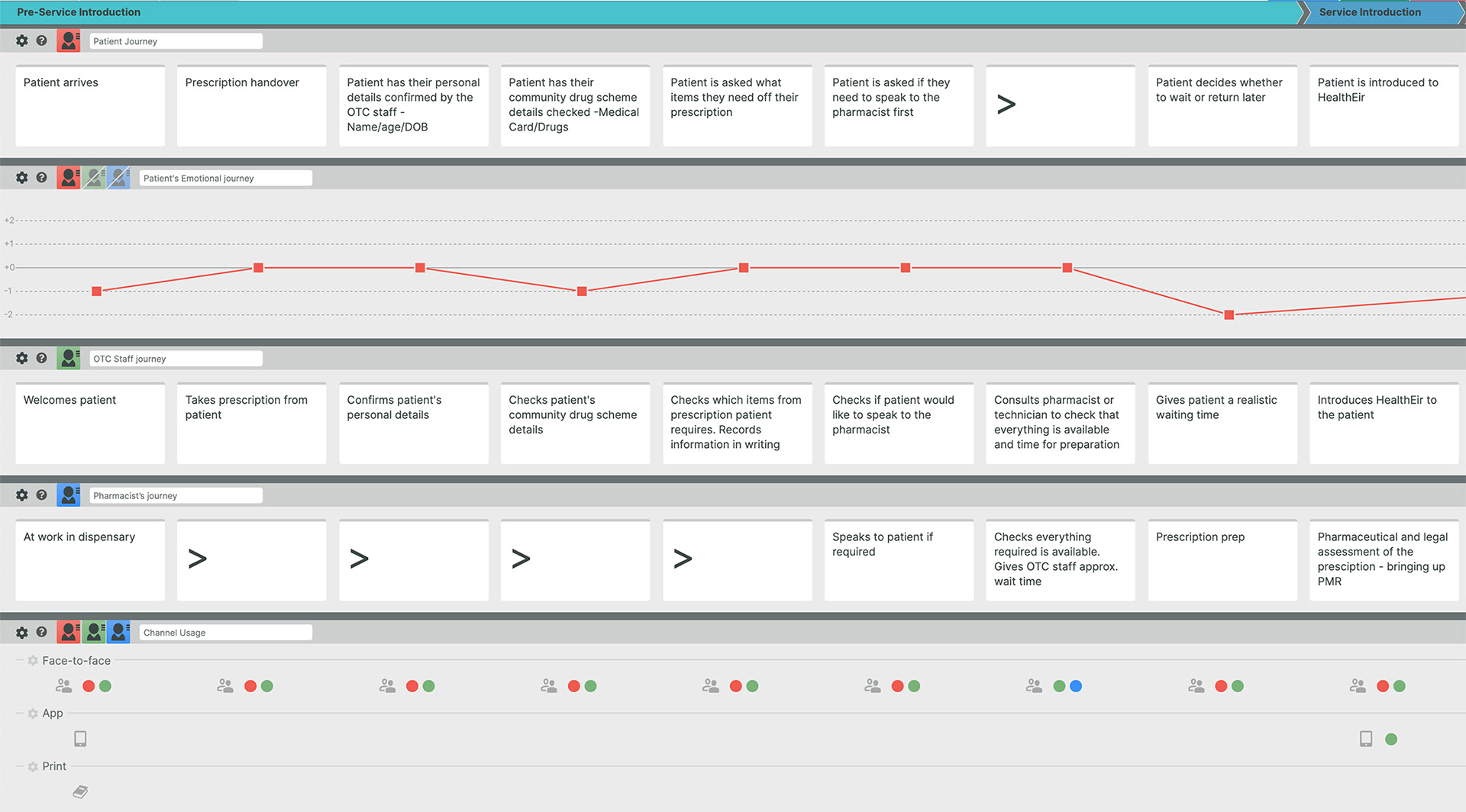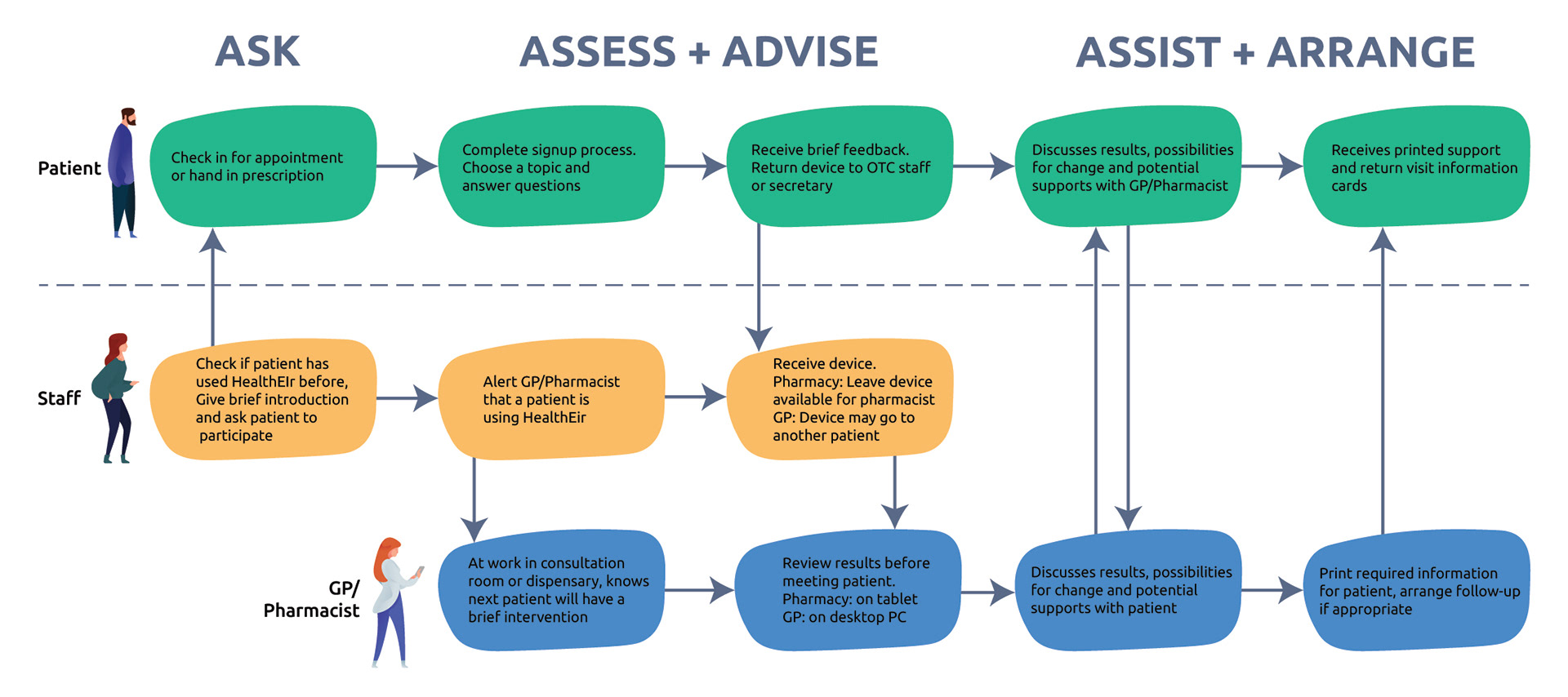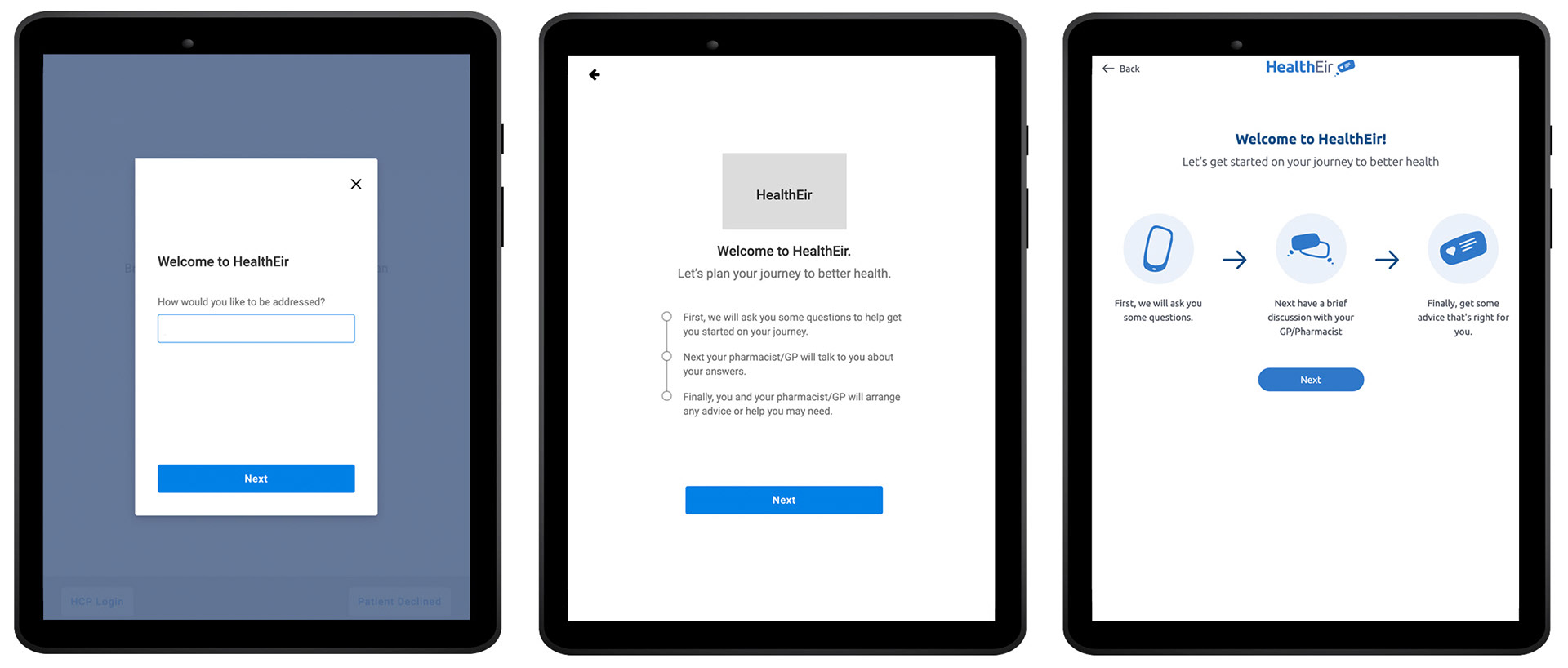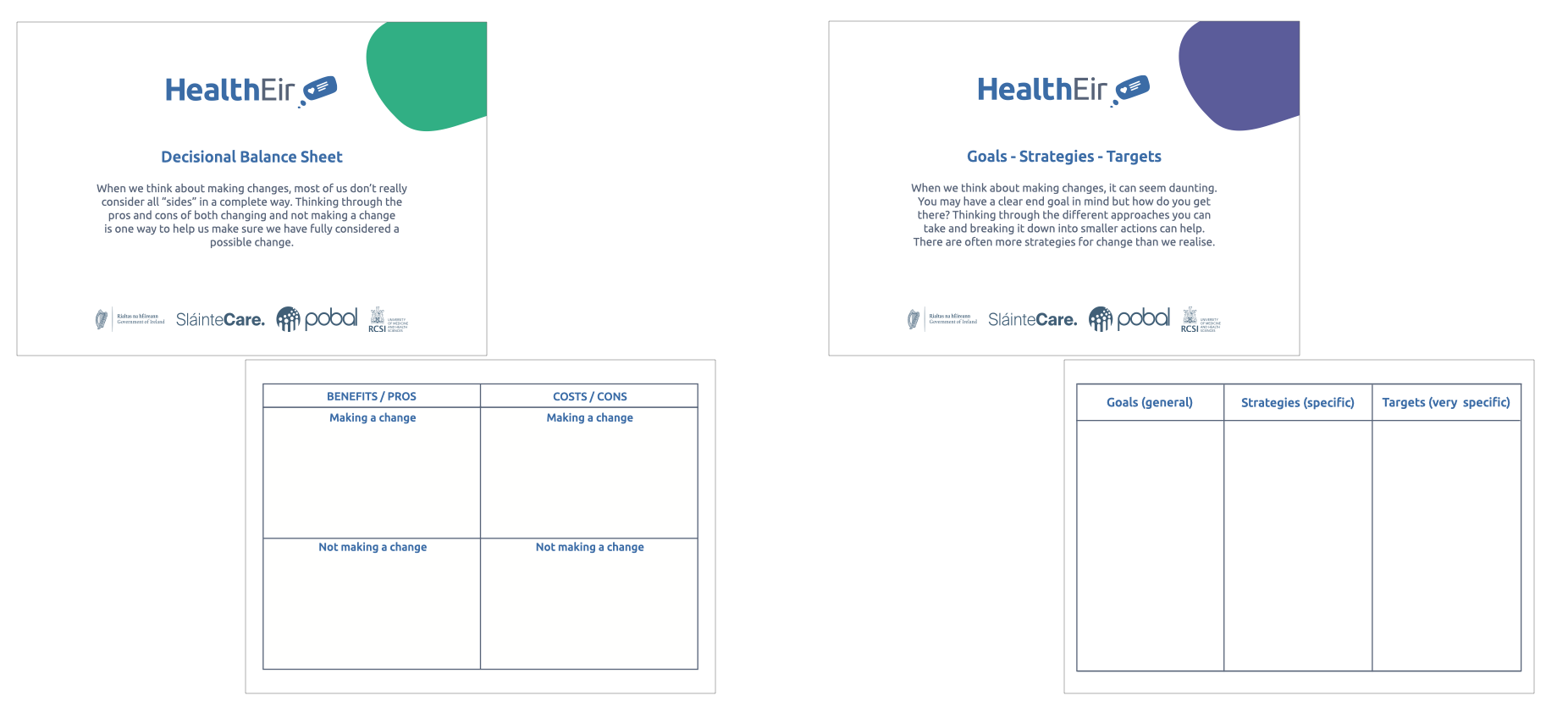 • Working across multiple complex environments
• Working with three distinct user groups
• Developing a patient ID system within academic ethical requirements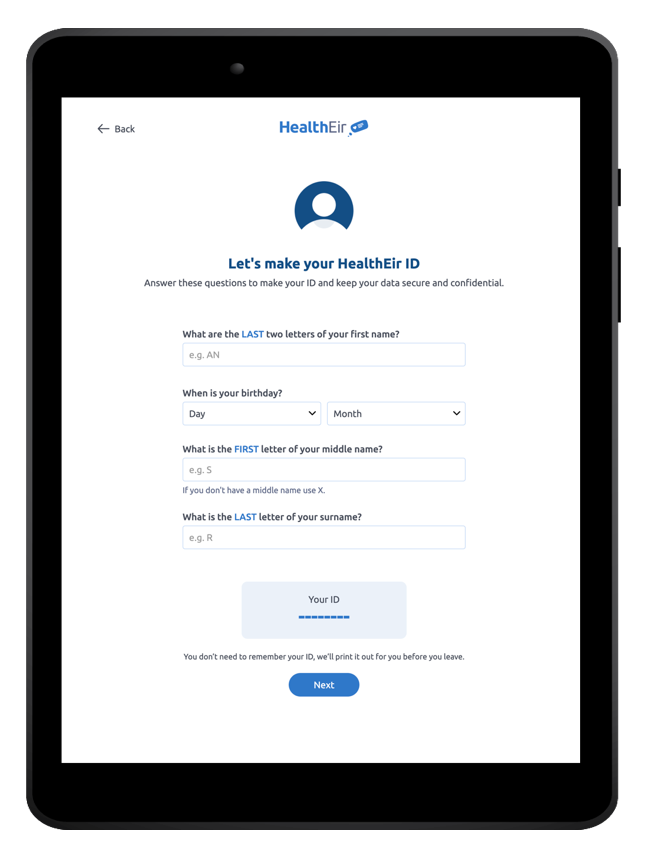 Pilot testing and on-going work
HealthEir was pilot tested in 8 pharmacies between September 2020 and April 2021.  Interface usability testing was conducted both with an internal team and with an independent contractor. Despite changing workflows and pandemic restrictions it was well received at all pilot sites and further development is ongoing. In 2022/23, it is planned to extend delivery to a further 30 sites including primary health centres and working with allied health professionals with a view to a future nationwide delivery.